Knowledge For Change (K4C) – Mizan & Sustainability
NILAI – Knowledge for Change (K4C), will train the next generation of mentors and leaders in Community Based Research (CBR) to a global standard developed by UNESCO Chair on CBR around the world.  The critical challenges facing humanity today require new understandings and solutions. Achieving Sustainable Development Goals (SDGs) will require new insights and connections locally and globally. New understandings and innovative solutions have been shown to be catalysed through co-construction of knowledge carried out in respectful partnerships with local communities. UNESCO Chair has developed global standards of curriculum and pedagogy for training next generation of researchers in CBR.
On 19th November 2018, Mizan Research Centre of USIM has organised a workshop that brings introductory to international program named Knowledge for Change (K4C) by the UNESCO Chair in Community Based Research and Social Responsibility in Higher Education. Chaired by Professor Dr Budd Hall from University of Victoria, Canada, the workshop started with ice breaking session with the participants, brainstorming ideas, interests, and opinions, and questions for group works. The workshop explained on what is community-based research, and its main principles.

The K4C consortium and its mentor training program are addressing the UN SDGs through teaching and learning CBR. K4C is a global initiative for the UNESCO Chair, under the joint leadership of University of Victoria and PRIA, and its HEIs and CSOs partners.
The purposes are:  1) to train of the new generation of community workers and students in the theory and practice of CBR; 2) to create an international communication network on knowledge democracy, justice and equity as a contribution to local, national and global challenges such as the UN SDGs.
Furthermore, K4C worked on the creation of local training hubs in India, Indonesia, Italy, South Africa, Colombia and Cuba (2018), and Canada, Malaysia, Uganda, Zambia and Ireland (2019).
K4C Mentor Training program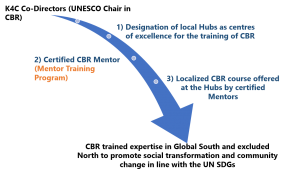 On his visit to Universiti Sains Islam Malaysia for 4 days (17th to 20th November 2018), Professor Budd Hall was invited to make some visits to community organisations, along with Mizan Research Centre's team and researchers. Among the activities were visiting 2018 Health Volunteer Trail of Ampangan Negeri Sembilan, Kampong Bharu & Malay Agricultural Settlement (M.A.S) in Kuala Lumpur, and last but not least, visiting Indigenous Peoples Village & Meeting with the President and community of Indigenous Peoples Association Peninsular Malaysia in Post Iskandar Bera Pahang.