MIZAN RESEARCH CENTRE (MRC)
Mizan Research Centre (MRC) is a research wing of the Faculty of Leadership and Management, Universiti Sains Islam Malaysia (USIM). MRC was established in May 2016 and aims to disseminate information regarding Mizan (balance) in every aspect of human lives from the perspectives of Islam. The centre celebrates universal values that are fundamental for the protection of all human beings.
MRC research niche is multidisciplinary in nature, ranging from Islamic Studies, Social Sciences, and Community Studies. The overarching principle of MRC is to establish a Mizan (balanced) society in various aspects of human life such as in environmental development, leadership, and to  bridge inequality in aspects of social lifes.  MRC focuses on preserving the Mizan nature of human beings and its environment as the centre strives to inculcate correct understanding over the issue of development and sustainable future. The Mizan initiative from an overall perspective, touch on the fundamental aspects of human and environmental needs for approaching the crisis of disequilibrium that is experienced everywhere. This is seen especially in environmental crisis, soulless research, and political instability as well as leadership crisis.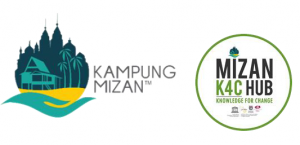 MIZAN KNOWLEDGE FOR CHANGE (K4C) HUB - K4C REGIONAL COORDINATOR (ASIA PACIFIC)
In 2019, Mizan Research Centre (MRC) has been awarded the status as a Knowledge for Change (K4C) hub under the name Mizan K4C Hub from UNESCO Chair in Community Based Research and Social Responsibility in Higher Education based in University of Victoria (UVic), Canada and Society for Participatory Research in Asia (PRIA), India. The certificate was conferred at UNESCO House, New Delhi, India after three of early MRC members completed their Knowledge for Change (K4C) and Community Based Participatory Research (CBPR) Mentor Training Program (MTP) Cohort 3, at MS-TCDC, Arusha, Tanzania. The hub status was also awarded based on Two (2) MoU signed by the UNESCO Chair with USIM and civil society organizations partnering in the initiative. The social organizations are Malay Agricultural Settlement of Kampong Bharu, Kuala Lumpur (M.A.S) and Malaysia Youth Council (MBM) for MoU 2019 – 2021 and the International Youth Centre (IYC) and Malaysia Youth Council (MBM) for MoU from 2022 – 2024. The MoU has been the basis for a continous collaboration and partnership of UNESCO Chair, USIM, and civil societies to uphold the importance of academia-community partnership, social empowerment, and community leadership through the philosophy and values of knowledge democracy, knowledge for change (K4C), and Sustainable Development Goals (SDGs). The MoU has also marked the efforts of USIM to collaborate with UNESCO and civil organizations to conduct capacity building trainings and activities as well as community researches and publications by sharing its academics roles to work collaboratively and proactively roles with the community.  Recently in 2023, after a successful organization of International Residency of K4C MTP by Mizan K4CHub, USIM and International Youth Centre (IYC), the hub has been acknowledged as Asia Pacific Regional K4C Coordinator through a 3 year MoA between USIM and the UNESCO Chair. Mizan K4C Hub currently has more than 10 certified K4C Mentors from academic and social background. The hub is also supported by a comprehensive K4C networking in Malaysia, Asia, and international level.
Find more about the UNESCO Chair K4C Initiative at http://www.unescochair-cbrsr.org/

2022 International K4C Mentor Training Program (MTP) Residency
at International Youth Centre (IYC), Kuala Lumpur
In 2023, after successfully conducting UNESCO Chair international residency of Knowledge for Change (K4C) and Community Based Participatory Research (CBPR) Mentor Training Program (MTP) with the support of International Youth Centre (IYC), Kuala Lumpur, Mizan K4C Hub USIM has further been recognised as an Asia Pacific K4C Hub coordinator. The status allows USIM through its Mizan K4C Hub and its civil society partners to conduct trainings and certification of UNESCO K4C and CBPR mentorship in the region. Mizan K4C Hub will also act as the coordinator to organize and support the development of K4C and CBPR by working collaboratively with all certified K4C mentors and partners in the region.  The Asia Pacific K4C coordinator status has enabled Mizan K4C Hub to provide a community – academia knowledge sharing ecosystem as an effort to support the United Nation's Sustainable Development Goals (SDGs). K4C and CBPR MTP training / certification for Cohort One (1) in Asia Region will commence in February 2024. The MTP training will be conducted online in 14 week with 2 week face to face Residency Program that will be held at Kuala Lumpur or any other suitable hosting institution in Asia.