PROFESSOR EMERITUS TAN SRI DATO' DZULKIFLI ABDUL RAZAK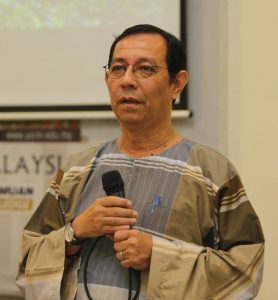 Professor Emeritus Tan Sri Dato' Dzulkifli Abdul Razak was the Chairperson of the Board of Directors at the Universiti Sains Islam Malaysia (USIM). He was appointed to the position after previously being the inaugural holder of the Chair of Islamic Leadership and Principal Fellow at USIM from 2014 to 2016. He is an Honorary Professor at the University of Nottingham and was recently appointed Senior Advisor at the Asia-Europe Institute, University of Malaya and Honorary Fellow at the Centre for Policy Research and International Studies, Universiti Sains Malaysia (USM). He was the 5th Vice-Chancellor/President of Universiti Sains Malaysia (USM) from 2000 to 2011; a member of the World Health Organisation (WHO) Expert Advisory Panel on Drug Policy and Management (1995-2010); and WHO Scientific Committee of Tobacco Product Regulation (2004-2006). Currently, he is the Rector of International Islamic University of Malaysia (IIUM) since 1 August 2018.
He was awarded the prestigious 2017 Gilbert Medal in recognition of his long-term commitment to an integrated approach to internationalization, to a sustainable (sejahtera) approach to international higher education and for his tireless work to support and develop the clearly public good dimensions of higher education, in addition to being distinctive in his willingness to challenge Western knowledge systems and to support the development and dissemination of alternative views on science, philosophy and education.
His latest contribution in 2017 was a book chapter, co-authored with Chang Da Wan and Morshidi Sirat, entitled "Juxtaposing Economic Progress with Sustainability in Mind: Issues and Way Forward for Universities", in Higher Education in the World 6: Towards a Socially Responsible University: Balancing the Global with the Local, published by the Global University Network of Innovation (GUNI), Barcelona. Over the years, he has authored more than 20 other academic titles and more than 1000 articles in journals and other media, as well as delivering numerous invited keynote addresses, nationally and internationally. He was invited to speak in two panel discussions at the 2015 Nobel Week Dialogue in Sweden.
Last year, his book Nurturing a Balanced Human Person – The Leadership Challenge won the 2016 Anugerah Buku Negara (2016 National Book Award). A new, expanded edition of the same title was released in April 2017.