ASSOC. PROFESSOR DR. MAHAZAN ABDUL MUTALIB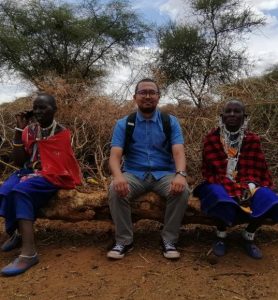 Mahazan Abdul Mutalib is an Associate Professor at the Faculty of Leadership and Management, Universiti Sains Islam Malaysia (USIM). He received his Diploma in History and Islamic Civilisation from Kolej Ugama Sultan Zainal Abidin in 2002 and a Bachelor of Da'wah and Islamic Management (Hons) from Kolej Universiti Islam Malaysia in 2005. He later obtained his Master's in Organisational Leadership from Monash University, Australia (2008) and a PhD in Management at Othman Yeop Abdullah, Graduate School of Business, Universiti Utara Malaysia, majoring in leadership (2012). He is currently a Director at the Research and Innovation Management Centre of USIM. He also acts as the Principal Researcher for the Mizan Research Centre USIM, which focuses on establishing narratives and models for a balanced lifestyle through analysis of Kampung (villages) from multiple perspectives.
At the end of 2014, together with Prof Dr Abdullah Abd. Ghani, he wrote a book entitled "Leadership Development Model for Religious Leaders: Answering Issues and Challenges of Mosque Organization in Malaysia", published by the Institute of Islamic Understanding Malaysia (IKIM). He also co-authored a book entitled "Dari Menara ke Angkasa" discussing stories of successful alumni of the Universiti Sains Islam Malaysia (USIM) in the field of entrepreneurship. Other recent publications are "Kampung – Reflections of Balance in Development" and "Masjid dan Pembangunan Komuniti Bandar dan Luar Bandar", published by USIM Press. Currently, together with some research members, he is finalizing a manuscript entitled "Qalb-Based Leadership for Malaysia Higher Education Leaders". In addition to the articles and books, he has also published some articles in indexed journals, especially on leadership behaviour.
He is now leading several research projects in Malaysia namely "The Kampung Mizan Initiative" funded by Bank Rakyat and "The Nature and Functions of Qalb in Leadership from the Islamic Perspective: A Preliminary Investigation of the Integration of the Naqli and Ali Knowledge-Base for Global Leaders", funded by the Higher Education Leadership Academy Malaysia (AKEPT). Before this, he led several other projects, such as the "Islamic Leadership Behavior Model for Malaysia Organisations", funded by the Fundamental Research Grant Scheme (FRGS), Ministry of Higher Education Malaysia; "Imams' Leadership, Mosque Performance, and Community Development in Malaysia", funded by the Research Acculturation Grant Scheme (RAGS), Ministry of Higher Education Malaysia; "Employers' Perceptions toward USIM Alumni" and the "USIM Alumni Employment Survey", both funded by USIM.